Download Fractal Art Photoshop Brushes to Create Uniqueness of Animation Volume 1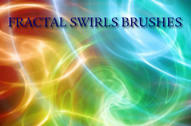 Designer: photoshopfreebrushes
Introduction
From Fractal said that it is a modular, extensible and programming language agnostic component model that can be used to design, implement, deploy and reconfigure systems and applications, from operating systems to middleware platforms and to graphical user interfaces. The goal of Fractal is to reduce the development, deployment and maintenance costs of software systems in general, and of Object Web projects in particular.
The Fractal component model has the following important features:
1. recursivity : components can be nested in composite components (hence the "Fractal" name).
2. reflectivity : components have full introspection and intercession capabilities.
component sharing : a given component instance can be included (or shared) by more than one component. This is useful to model shared resources such as memory manager or device drivers for instance.
3. binding components : a single abstraction for components connections that is called bindings . Bindings can embed any communication semantics from synchronous method calls to remote procedure calls
4. execution model independence : no execution model is imposed. In that, components can be run within other execution models than the classical thread-based model such as event-based models and so on.
5. open : extra-functional services associated to a component can be customized through the notion of a control membrane.

Brushes Story
This set of fractal art brushes will offer 10 brushes with high resolution pixel:1000-1500 pixels that is really clear and clean to see and edit. Most of this set of brushes is composed and presented in curly and twirly fractal art. Those fractal arts are suitable for those who like making a high quality background for their photo works design either in Photoshop or GIMP.
In addition this set of fractal art photoshop brushes is made in adobe photoshop CS version. But if you want to experiment with this set of brushes in adobe photoshop version 7.0 the result may not be maximal as in adobe photoshop cs version.
So download this set of brushes and start your creativity of making a high value of animation background. Show the others what you have got.
Follow the brushes installation instruction to make sure you install this pack in specific directory on your phot edit program

Before downloading the content within this site please read our terms of use firstly to use the content based upon your purpose